Why YUDU for your digital catalogues?
YUDU Publisher transforms your PDF catalogues into beautiful digital publications designed to improve engagement, drive sales and cut your distribution costs.
Read on to discover a selection of features available when you publish your digital catalogues with YUDU!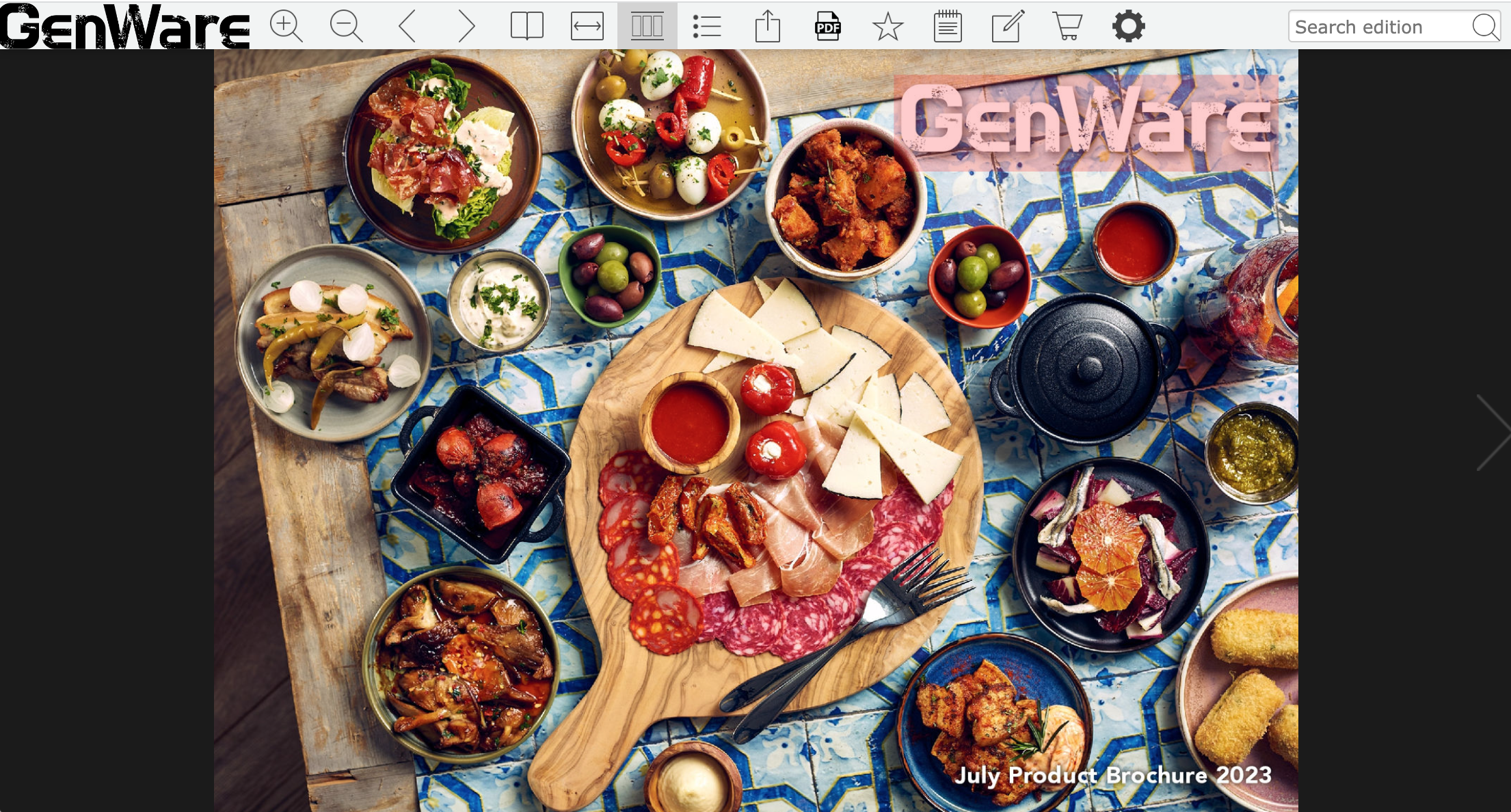 Image: (Above) Cover of a landscape orientation digital catalogue with custom toolbar logo.
Custom Branding
With YUDU there are no third-party adverts and no rival catalogues to be seen. You have full control of the published content and this includes control of the branding, with the option to customise the loading icon, overlay colours, toolbar logo (which you can link to a website), background colours (you can even add a background image!) and toolbar icons and colour scheme, ensuring you always stay on brand. Everything is fully customisable, including the text prompts, which can even be translated into a different language for non-English content.
Top Tip: For that authentic print catalogue look, enable the page turn animation and centre shadow. You can even add a page turn sound effect.
Intro Page

Start your catalogue with an Intro Page to the left of the cover. This is prime real estate and can be used for a number of different purposes - sponsorship page, interactive questionnaire, navigation instructions.

Top Tip: Maxmise this page by making it interactive. You can enhance it with multimedia elements, such as video and audio, or interactive elements, such as surveys.

Image: (Right) Example of an intro page featuring a promotional advert for an exhibition with an embedded video and registration link.
Email Collection
This is a great tool for building up a database of contact details for your campaigns. Customise the message and inform your customers how their details will be used. You'll also need a link through to a privacy policy. Email address collection can be enabled and customised in Settings > General.
Top Tip: Due to GDPR guidelines, we no longer enforce email collection but you can always entice them with a promo or by outlining the benefits of signing up.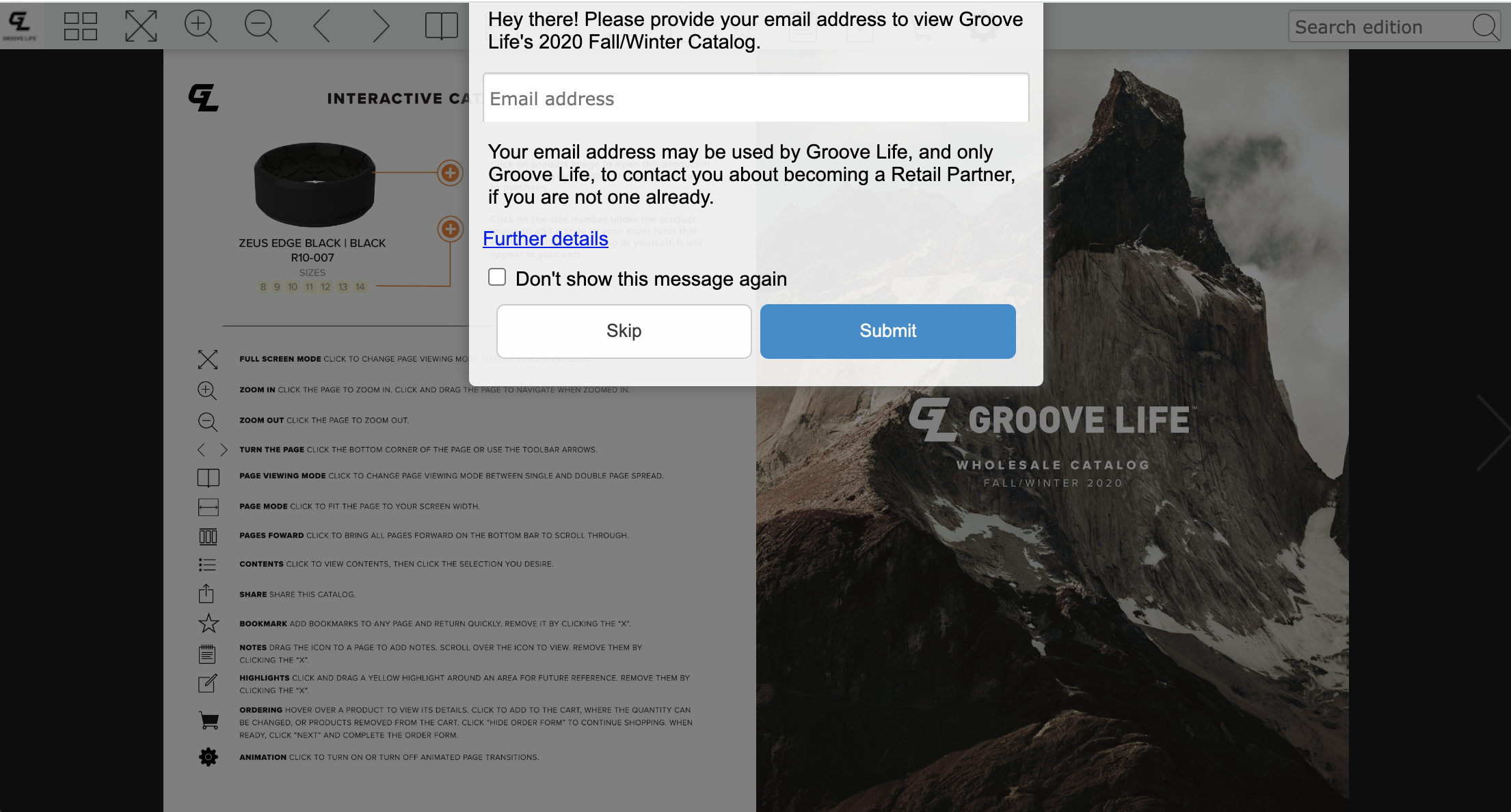 Image: (Above) Example of the email address collection feature with custom message.
Navigation
Customers have multiple options when navigating your catalogue. They can turn the page with a swipe, click or tap of their keypad. Alternatively, they can launch the page carousel and jump straight to a page of their choice...
Images: (Above) The thumbnail viewer - click or tap a page to jump to it
...or you can add a table of contents menu - the latter is especially powerful since it can be accessed from anywhere within your catalogue.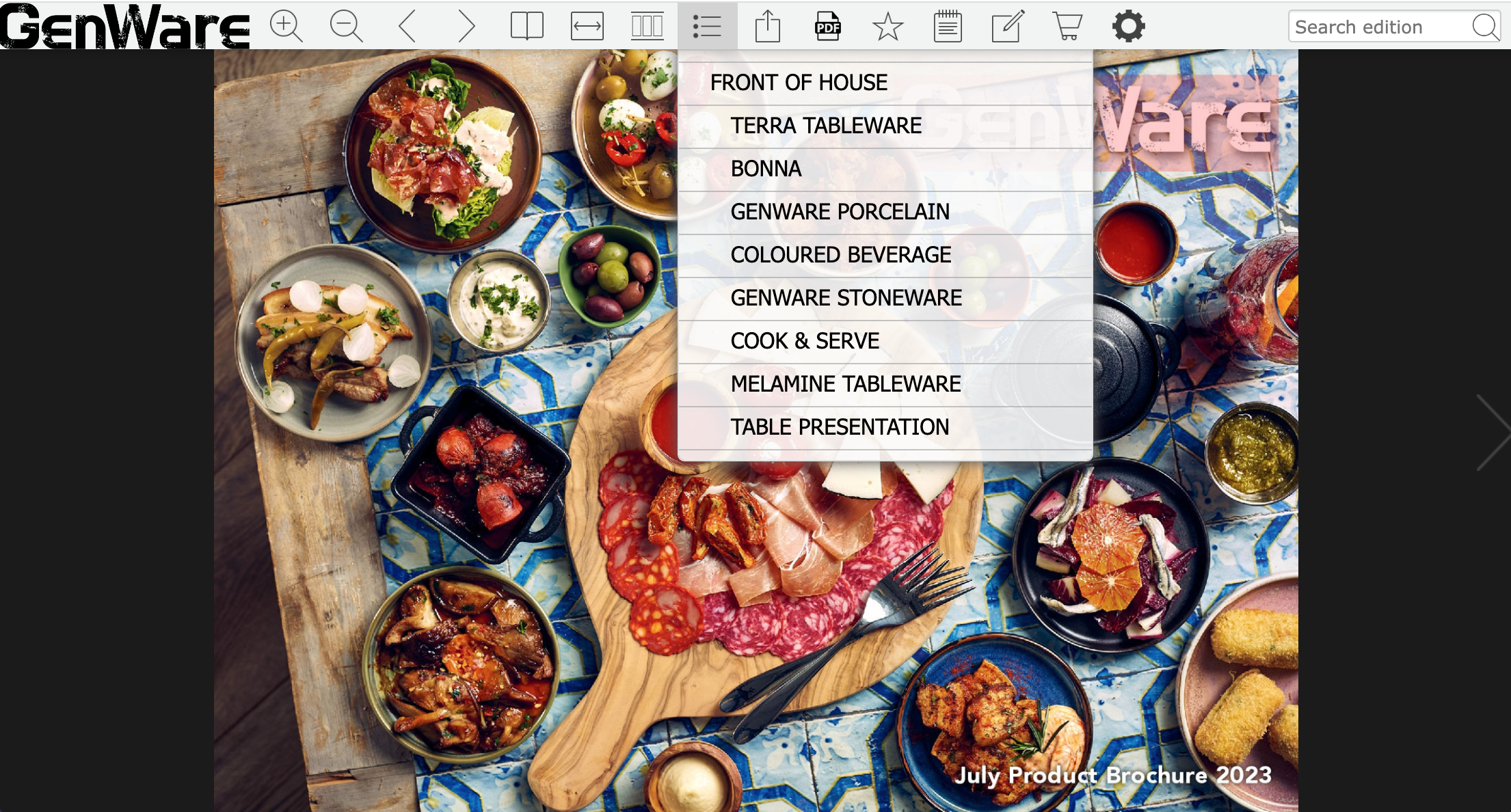 Image: (Above) The table of contents menu - select an item to jump to that section.
Top Tip: Don't forget to embed internal page links using page link overlays on your catalogues actual table of contents page too! If you have a large contents menu or index page, be sure to use our auto-linking feature.
Search
If your customer is looking for something in particular, then what better way to simply search for it? When you upload your catalogue to Publisher, its plain text is stripped out and stored, making your entire catalogue searchable using the inbuilt search tool. Not only that but the plain text is indexed and made visible to search engines, meaning your catalogue can show up on search results on platforms like Google or Bing.
Top Tip: If you're publishing multiple catalogues in the same publication group on YUDU Publisher, you may want to think about leveraging our archive search tool to allow your customers to search across your entire range of catalogues.
Sharing

To reach the maximum possible audience, don't forget that everyone is only six degrees of separation away from everyone else, and make sure you have sharing enabled. Your customers can share the entire catalogue or a direct link to their current page and its collection of products, whether by email or social media.

Top Tip: Don't forget to customise the sharing email's subject line and message template in your catalogue's settings on Publisher.

Image: (Right) The sharing options from the toolbar menu.
Mini-PDF
If sharing a link to your catalogue or a single page isn't useful enough, what about picking a selection of pages and sharing those as a recombined mini-PDF?
Top Tip: This is a fantastic tool for sales teams, who can bookmark pages with products of interest to share with customers or colleagues.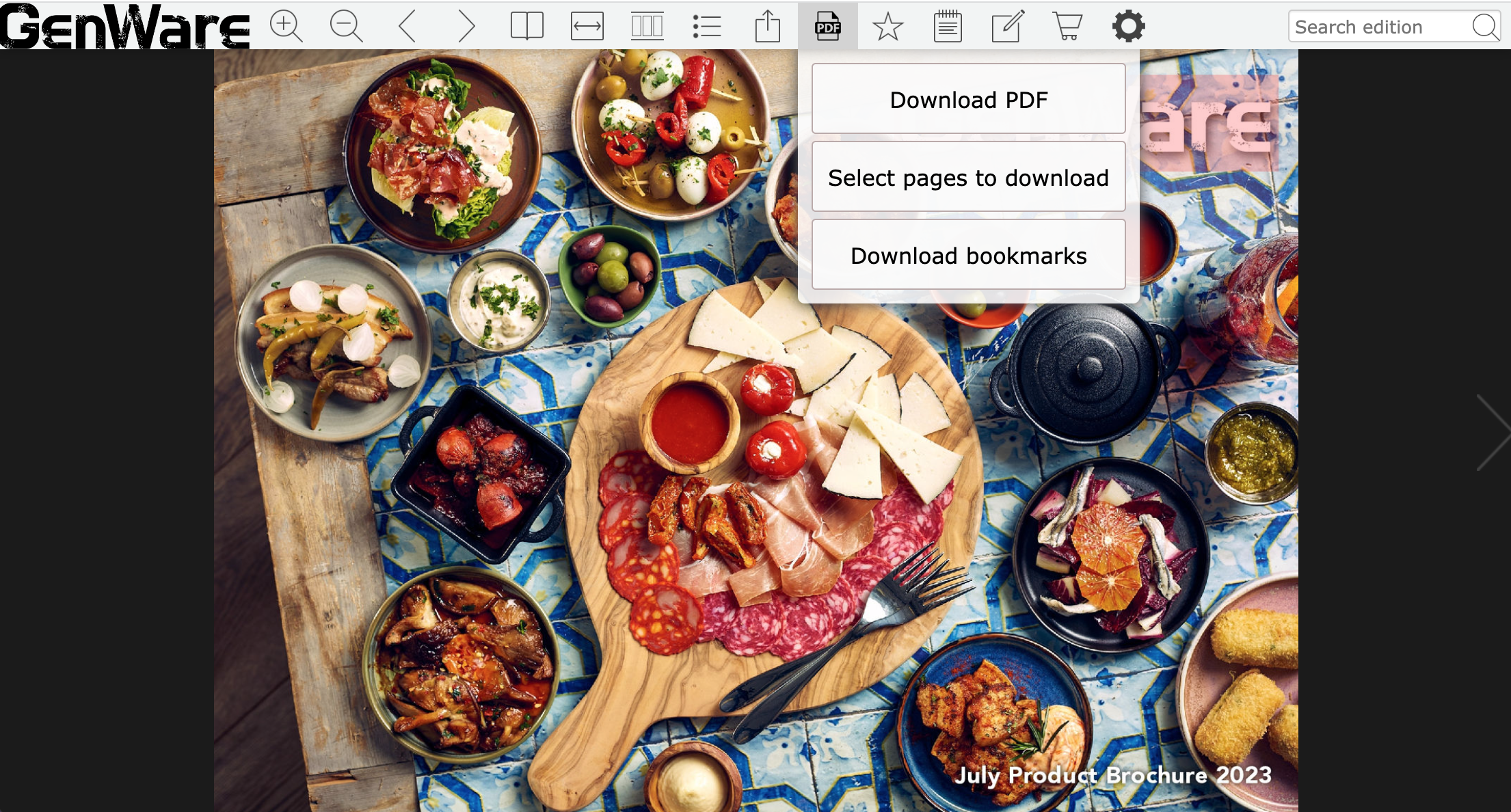 Image: (Above) Select the PDF icon to access the options for compiling your very own mini-PDF
SmartCat
This is the powerhouse of YUDU's catalogue solution. SmartCat allows you to automatically link all the product codes in your catalogue and make them interactive. The choice is now yours: direct customers to the product on your e-commerce site, build a shopping cart in your online catalog or integrate with your own website's shopping basket.
Top Tip: Unsure which approach is best? Why not clone your catalogue and experiment with all three methods?
Now let's take a look at each approach...
Link to Product on Website - choose this option by uploading a csv containing your product codes and their associated web URLs. When a customer clicks a product code in your catalogue, they'll be taken direct to the product page in a new tab.
Top Tip: This is fantastic way to drive more traffic to your website by distributing your digital catalogue on social media and in email campaigns.
Shopping Basket - choose this option by uploading a csv containing information such as the product name, price, description, a product image, quantity, etc. Your customers can populate the shopping basket with the click of a button and adjust the quantity of the items before submitting their details and their order through to a primary and (optional) secondary email address that you specify in the Publisher settings. The customer will also receive a confirmation email. If the setting is enabled on Publisher, they can also download their order as a CSV file.
Top Tip: You can customise the shopping basket information via a combination of the eCommerce section on Publisher (under Settings) and the HTML Branding Pack; you can also customise the emails that both yourself and the customer receive upon placement of an order.

Images: (Above) The shopping basket and order prior to submission. The information and fields can be customised and/or omitted as required.
Shopping Basket Integration - this is a variation on the above but involves integrating with your own shopping basket. When the customer clicks a product code, the product is initially added to the basket in the digital catalogue but, when they submit the order, they are taken to the shopping basket on your own ecommerce website, populated with their selected items, in order to complete the transation.
Top Tip: You can try it for yourself using the following catalogue.
Product Rollovers
If you want to add an extra dimension to your catalogue, why not include Product Rollovers? Product Rollovers are an extension of the YUDU SmartCat system.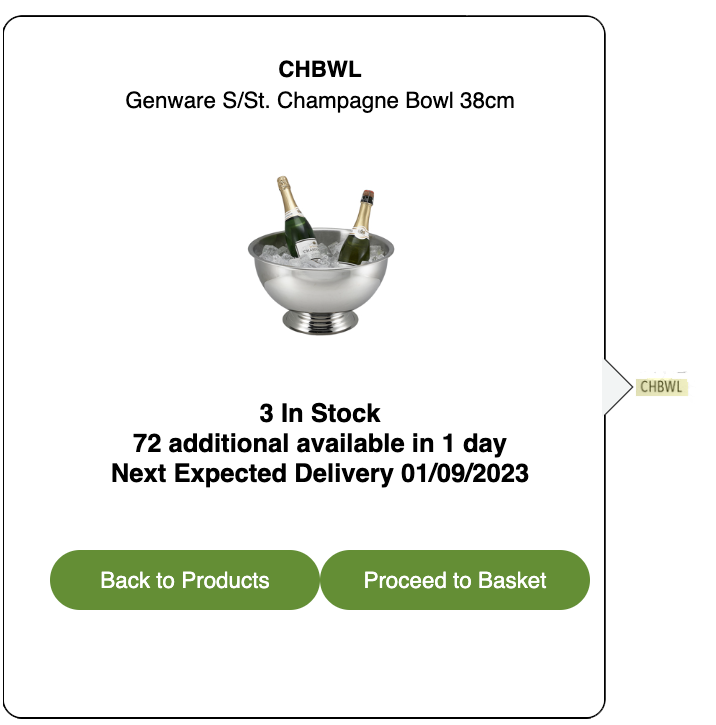 Image: (Above) Example of a Product Rollover with alternate image, availability and stock level information.
When a customer clicks or hovers over a product code, a pop-up will appear containing additional information - an extended description, an alternate product image, prices and even dynamic stock levels.
That's right, you can use our API to send over regular updates to the Rollover CSV file with updated stock information.
Top Tip: Customise the appearance and information that is displayed in your Product Rollover using the HTML Branding Pack. Speak to a member of our team for more information.
Multimedia
If you want to fully leverage the benefits of digital, you can't ignore the power of multimedia. Why not add product videos to your catalogue?
Top Tip: You have multiple options when adding video. You can embed videos on the page, trigger them to appear within lightbox pop-ups or link out to an external website like YouTube or Vimeo.
Images: (Above) An embedded product video.
360 Product Views
Go one step beyond regular multimedia by embedding 360 product views. You'll need to create these yourself but the YUDU interface lets you add them to your catalogues using the wonders of HTML and our easy-to-use overlay system. Check out this page for more info on HTML overlays.
Top Tip: Reserve this for your premium products that really need to stand out!
Catalogue Analytics
You've enhanced your catalogue with multimedia, made your product codes interactive, added product rollovers for extra impact and finally published your catalogue live. You send out the live link in email and social media campaigns.
Top Tip: You can even distribute links to specific pages!
You give it a few days and you're finally ready to check your catalogue's performance. YUDU gives you the tools to get all the information you need - whether that's via our inbuilt YUDU Reporting, which includes data on Product Codes clicked, or by integrating with Google Analytics. You can choose whichever option suits you best.
Happy Publishing!
Thank you for reading, we really hope you found this information useful and we look forward to working with you as we have done with so many catalogue publishers over the years.
Remember, don't hesitate to contact YUDU support or your Account Manager if you have any questions or feature suggestions.
- YUDU Team