When sending out a digital publication most likely you will send the live link to your Flash or HTML published content, however what if you want the edition to open on a specific page via a link?
Here is how to accomplish this on each technology...
Flash
With the publication open, click the Sharing toolbar icon and select Send to a friend...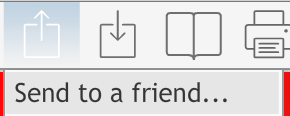 Next you have the option to send the link to the entire publication or to an individual page, and it is the link to the page you can copy - for example http://content.yudu.com/A2xkq1/IssueTwo/resources/2.htm will take the user to page 2 of this digital publication

The format of this is *Live URL*/resources.*Page Number*.htm, so changing the live URL and page number you require will give you the direct link.
HTML
Much like the Flash version above, the HTML version has the following direct page format:
http://content.yudu.com/htmlReader/A2xkq1/IssueTwo/reader.html?page=2
To confirm, the format is *Live URL*/reader.html?page=*Page Number* so simply replace the live link with your own and the page number you require.