Read Aloud is a fantastic feature that allows readers, with the simple press of a button, to have the publication content read to them by the iOS device. This is particularly useful for visually impaired or children's content.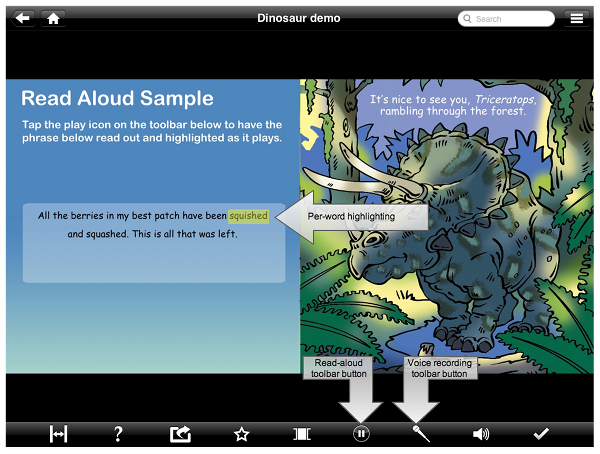 Preparing Your Files

Note - The fonts/text have to be embedded in the PDF in order for our system to match the words in the XML file with the embedded text. The text that is extracted from the PDF by YUDU Publisher system can be seen in the Plain text section of the Settings for the publication. This can also be edited in this section in order to ensure that it matches correctly, if required. For more information on file specifications, see the File Specification guide.
XML

For the feature to work, an XML file must be uploaded to YUDU Publisher containing the read aloud timings. An example is attached to show the formatting.

In the XML file, the page number, (e.g. page="004") is the absolute page number from the beginning of the PDF, disregarding the pagination within the PDF, i.e. "page="001" is always the first page of the PDF.
Upload your XML to YUDU Publisher under the Files menu, ensuring that the special usage drop down menu is set to Read Aloud Timings.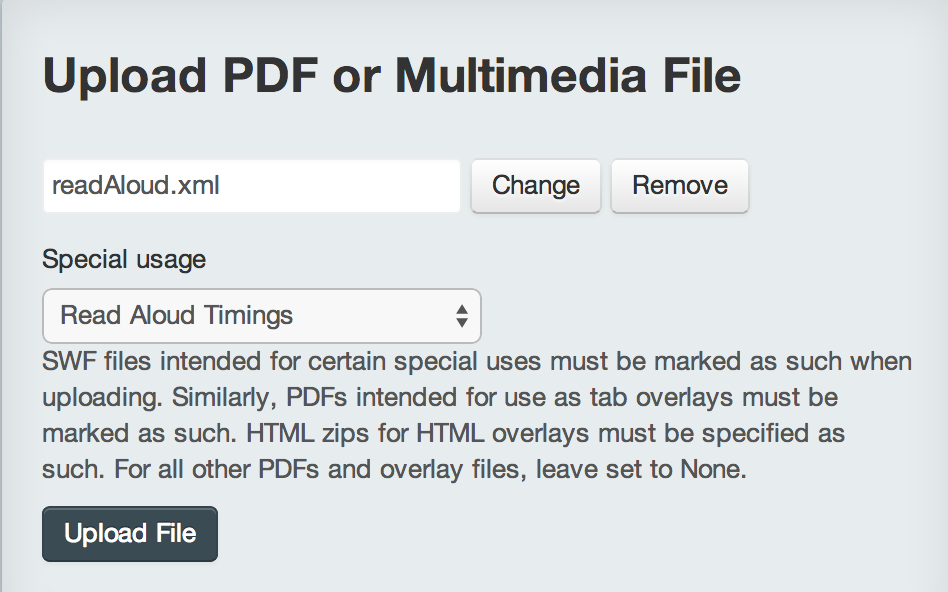 MP3
The read aloud audio file must be uploaded as a single MP3 to the same location with no special usage selected.
Apply Read Aloud
To apply the Read Aloud files, navigate to the Mobile section of your publication in YUDU Publisher and then scroll to the Read Aloud sub heading, selecting the XML from the timings drop down and the MP3 from the audio file drop down:

Click Submit at the bottom of the page and regenerate the preview for your publication to see the changes.
Wrong Words Being Highlighted?
If after following the steps above, the previewed version has the wrong words being highlighted, then you need to do the following.
Open the affected page in the Overlay Editor
Make sure the Text Flow button on the left is enabled.
Add a text flow overlay covering the first block of text on the page, excluding any text that shouldn't be read aloud.
Repeat for each subsequent block of text. Give each text flow overlay a number one higher than the last (using the dropdown on the right). Then repeat for any other pages that aren't working as expected.
Re-preview and check the highlighting now works correctly.
Adding the text flow overlays defines where the text on the page is and what order it's in, which allows the system to match it to the audio track.