With the implementation of the HTML solution comes an editable toolbar and instructions, allowing you to customise the look and feel of your digital publication.
The branding pack allows for you to customise:
Instruction Panel - this is presented to the user upon the first time of opening a publication
Toolbar - The Toolbar to navigate the edition, including various tools and features
Various Default Options
Note - you do NOT have to upload the entire pack - if you wish, you can edit only one element of branding and, using the same folder structure (ie artwork/contents.png), upload this content to overwrite the previous branding.
Click Here To Download The HTML Reader Branding Pack
Note- When you visit the link above you need select the "Clone or Download" button, then select "Download ZIP".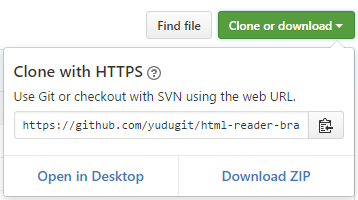 This pack contains a number of images and HTML for you to edit and the following grid shows the structure and the usage of each element:
How To Upload The Branding Pack
To apply your customised branding, make sure that you maintain the same structure as the branding pack supplied, editing your assets accordingly then compressing them into one zip file.
Navigate to the Files menu of your publication and simply upload the zip file with the special usage HTML Reader Branding Pack selected, demonstrated below:

Now that the content is uploaded we need to apply it to the edition. Navigate to the Settings menu then select the Branding sub menu.
From here, scroll down until you see the HTML Reader sub heading and from the drop down menu select the zip file that you have uploaded:

Finally select Submit at the bottom of the page to confirm your changes.