Image (Above): Settings Toolbar showing Access Control highlighted
To control your publication's availability, go to Settings > Access Control.
In this section of YUDU Publisher, you can make your publication login-protected, change the selling options within your custom branded apps or make your digital publication hidden from SEO indexing.
The first option you are presented with is a tickable box called "Subscription required".
If you enable this setting and click "Submit" at the bottom of the page, the login box will appear when you generate a new preview.
To store login details so a user does not need to repeatedly log in, please also tick "Remember me when offline".
You can also specify a number of unprotected pages at the start and/or end of your digital publication, both for the standard digital edition and the PhoneView (Reflowable Mode) equivalent, if the latter is available.
Image (Above): Access Control settings to enable the login prompt on your Web version and specify how many pages are visible publicly prior to the login prompt appearing.
The next batch of settings only apply if you have a custom branded YUDU application. The Selling Options for iOS and Android allow you to specifiy whether this particular publication is free to access for everyone (Free edition), only available as part of a YUDU Publisher subscription by logging into the app (Subscription only) or available for sale within the app as an in-app purchase (For Sale).
Please Note: If you choose "For Sale" and sell your publication as an in-app purchase, it can also be released to a YUDU subscription and accessed via login. These two options are not mutually exclusive. In this case, you would set the Selling Option as "For Sale".

Image (Above): Access Control settings for iOS and Android.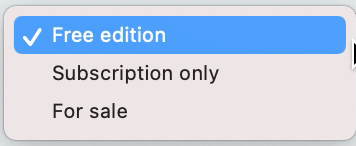 Image (Above): The three different selling options - "Free edition", "Subscription only" and "for sale"
The final batch of settings on this page relate to the privacy of your digital publication. You can enable Content Encryption and the Privacy Options will prevent your digital publication from appearing in public searches on search engines.

Image (Above): Content Encryption and Privacy Options
Further information re: Content Encryption:
To enable Content Encryption, navigate to the Access Control page and tick the relevant checkbox. The edition needs to be (re)previewed and (re)published for the changes to take effect. Note that publishing will fail if the encryption setting is different to its value at preview time. The settings exists both at edition and at publication level. The latter will apply to new editions only.
"Side effects"
If encryption is enabled, it is no longer possible to set unprotected pages at the start and at the end of the edition.
Search-engine-indexable plain text is not encrypted, so clients should use the Privacy Options on the same page to configure their editions as they desire.
The note clipping feature in the iOS reader is disabled for encrypted editions.