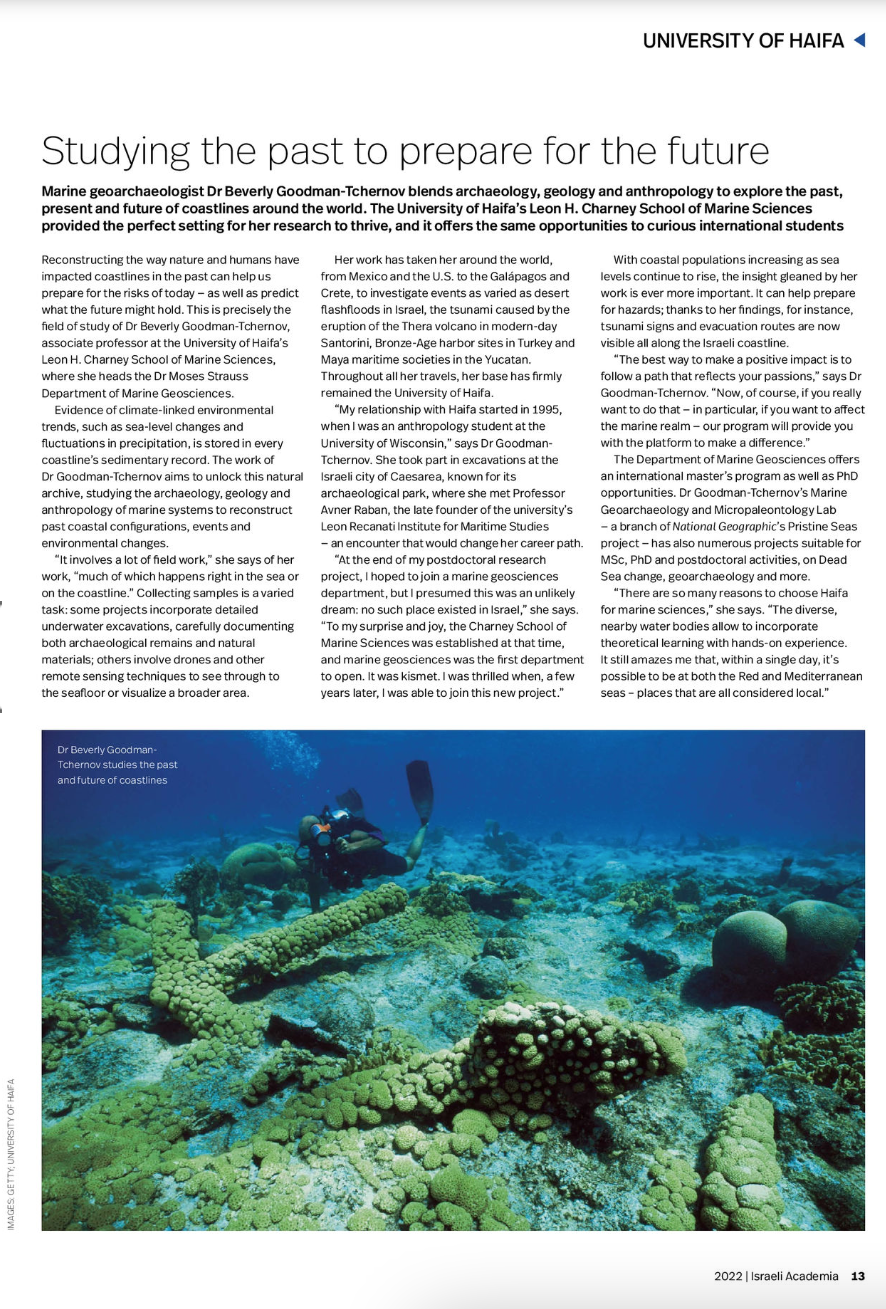 .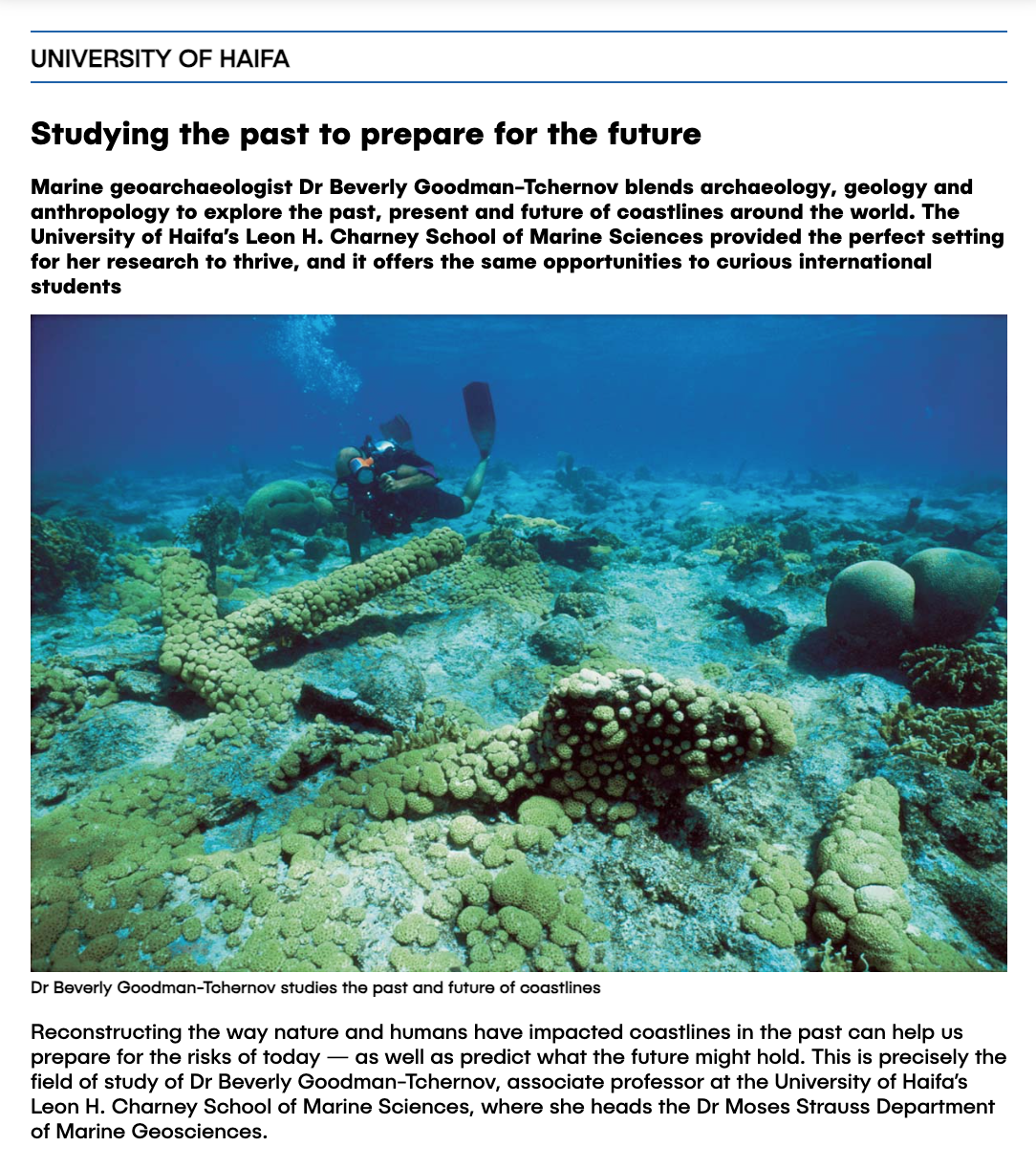 Image: (Above) Standard Fixed Layout (L) versus Reflowable Mode (R)
Reflowable Mode (also known as PhoneView) is a responsive HTML-based format that improves the readability of your publications on smaller screen sizes and can be leveraged to achieve levels of Accessibility in your publications that aren't possible with the standard, fixed-layout format. This is possible because the html-based format allows for the incorporation of ALT-Text, Image Descriptions, screen reading, ARIA tagging and so on, as you seek to meet WCAG standards.
Which platforms support it?
It can be made available for our Web publications and within our iOS, Android and Windows applications.
Reflowable Mode works alongside YUDU's standard fixed layout format, which is converted directly from PDF.
How is it produced?
Since no process currently exists that can automatically convert a fixed layout PDF into responsive html without running into serious issues with layout etc., the creation of the reflowable format involves an appreciable amount of manual work and refinement. Conversion times are usually in the region of 3-5 days for a typical magazine but will vary based upon the length of the publication, complexity of the design and degree of Accessibility that is required.
Our YUDU team are able to work with you on building this alternative format and can also advise your team on WCAG requirements and the extent to which you could meet Accessibility standards.
In parallel, we are continuing to develop our platform to ensure that it also meets these standards.
If you have ePub files, please get in touch as we may be able to use these to create your content for Reflowable Mode.
How is it displayed?
WCAG standards aside, Reflowable Mode makes your content readable on even the smallest screen sizes, making it an ideal format for mobile. This gave birth to its original name – PhoneView – but the format is actually available across all devices, apps and screen sizes.
Within your publication settings, you are able to specify which format is displayed as default – Reflowable (nee PhoneView) or Fixed Layout - across three screen sizes – mobile, tablet and desktop/laptop. Any combination of the two formats across all three screen sizes is possible, including all screens defaulting to Reflowable (PhoneView) Mode.

Image: (Above) HTML Reader preferred view
When an end user opens your digital publication, YUDU automatically detects which screen size is being used in order to serve the appropriate default. Depending on your selection, if reading on a desktop, the end user might be served with the standard format. However, if viewing the same publication on a mobile phone or tablet, they might be served with the reflowable format.
You can also navigate between formats using an icon on the toolbar, regardless of which format is specified as default.

Image: (Above) Reflowable Mode Icon - Second from Left
Not only that but you can supply a direct link to the reflowable format in addition to the usual live link to the standard digital edition.
Image: (Below) Example of (a) direct to reflowable live link versus (b) standard live link:


Functionality
Reflowable Mode has additional viewing options built-in, such as allowing the user to increase and decrease text size using T-/T+ icons, which is especially useful on smaller screens.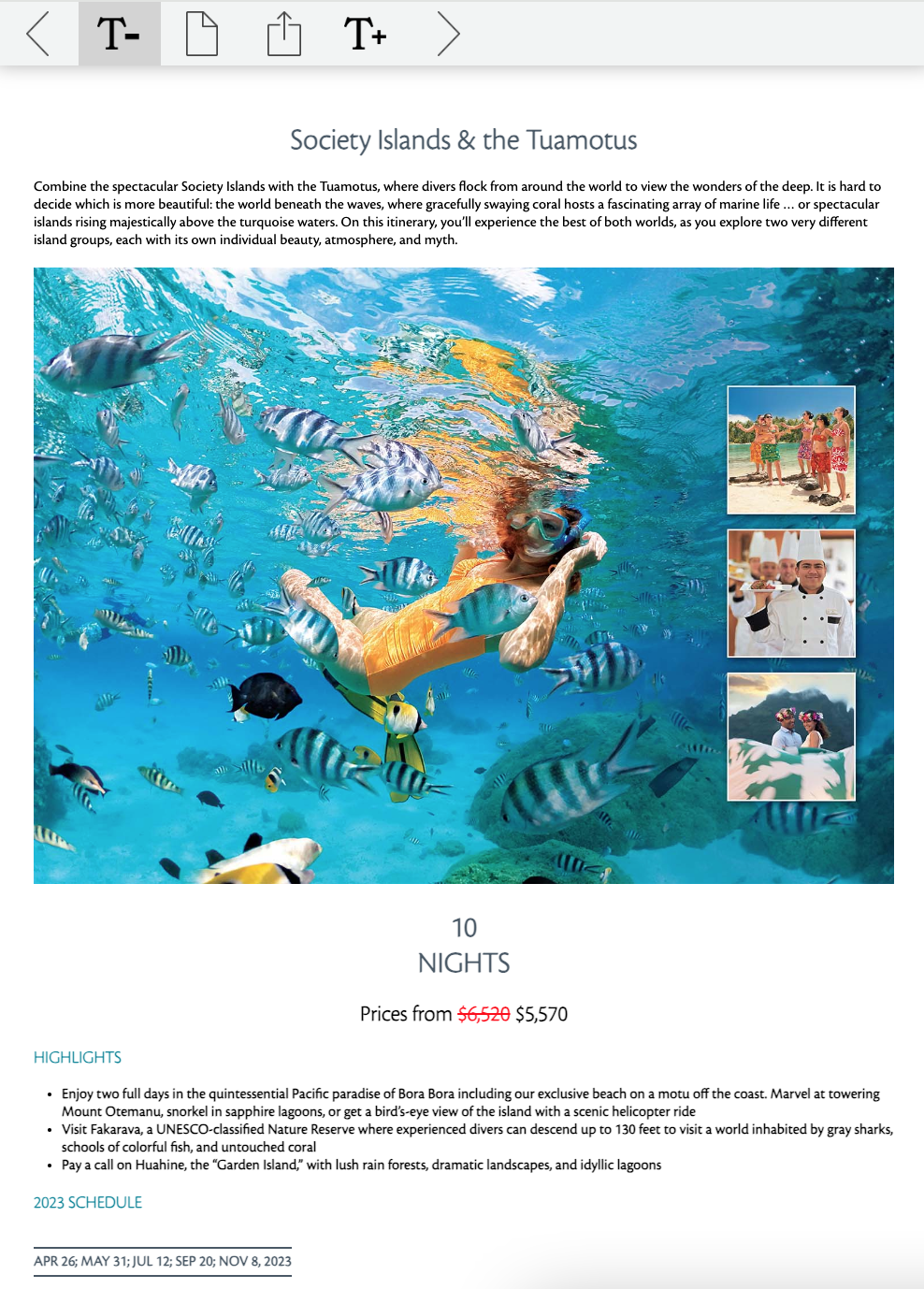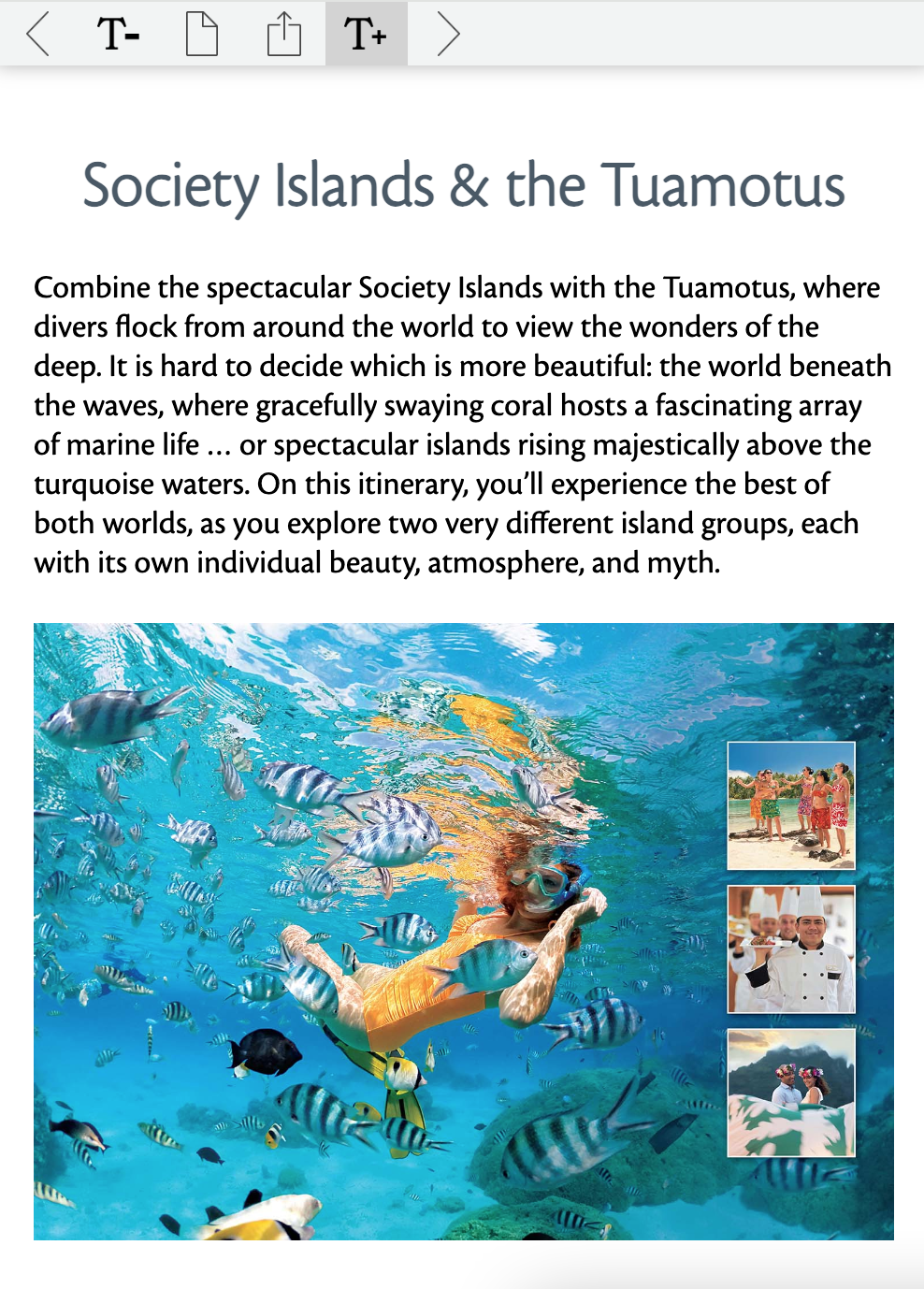 .
Image: (Above) Re-sized text using toolbar icons from smaller to larger (L-R)
You can also navigate through the content using < > icons or via a dropdown table of contents menu on the toolbar.
It includes our standard sharing options, and your content can be login-protected using our built-in DRM controls.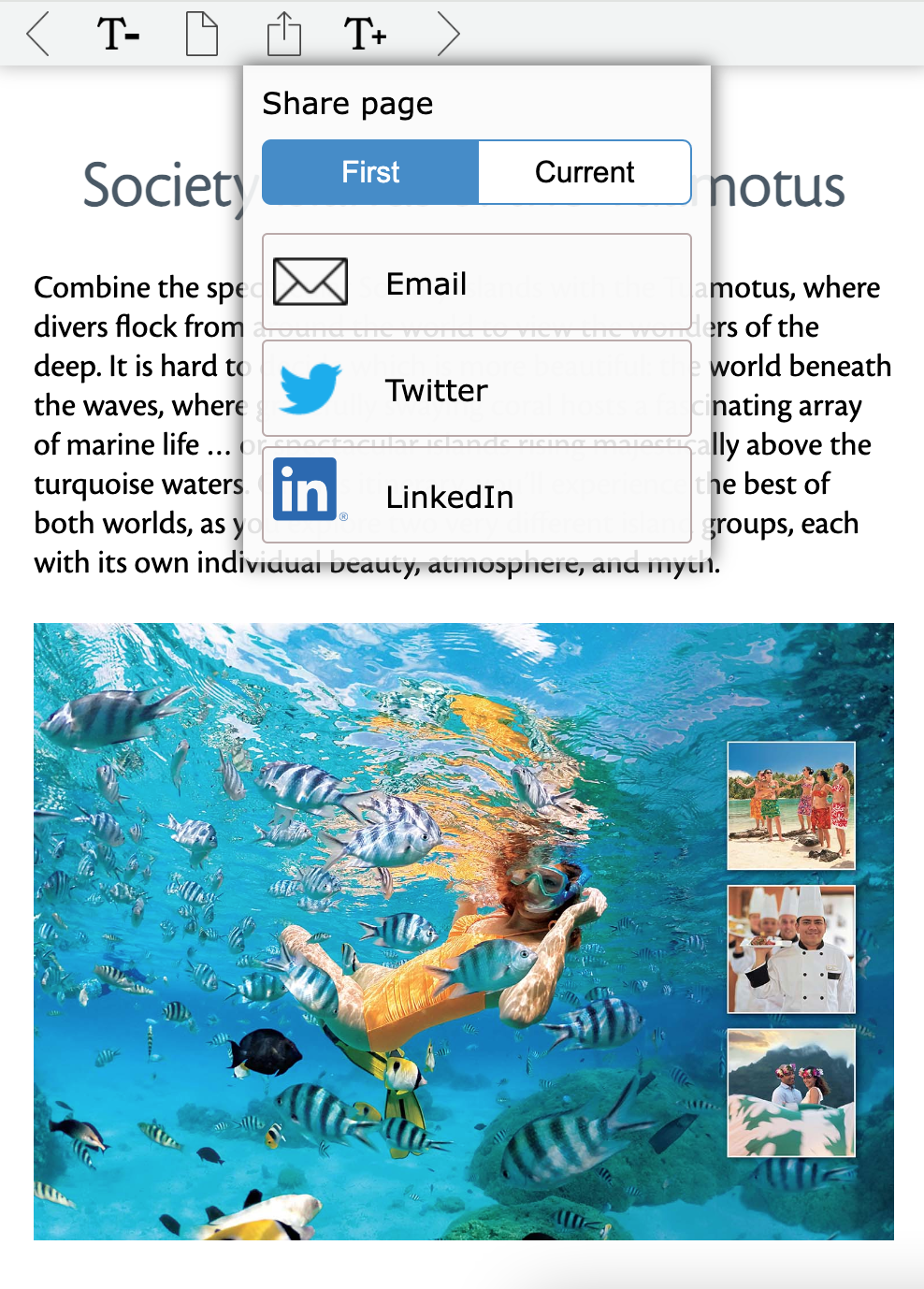 Image: (Above) Sharing Feature in Reflowable Mode
Reflowable Mode can handle multimedia elements such as video and audio, while larger images and graphs can be viewed in pop-out lightboxes to make for easy viewing.
We also have reporting available specifically for this format, so you can see how many users are reading this mode vs the standard layout.
If you would like to convert your publications to Reflowable Mode for a superior reading experience on mobile devices or if you would like to make your content more Accessible and have questions about Accessibility and WCAG requirements, please don't hesitate to get in touch.